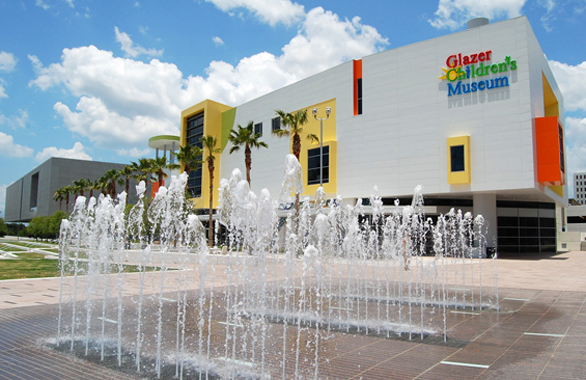 In Tampa there is a great touch museum with tons of interactive experiences for your little one. The admission for adults is $15 and children $9.50. Right now they have a coupon for BOGO admission which is a great deal.
http://glazermuseum.org
The first floor of the museum has a giant splash table complete with make your own sailboat, pipe building, and a weather learning area. There is also a mock sailboat area in the back of it is a kiddie sand area. There is also a toddler play area with toys and they have story time as well. My kiddos could spend hours at the splash table area.
The second floor is jam packed with tons of things to do. There is a stage with costumes, construction area, garden, publix grocery store, outback restaurant, firefighters area, and sports area. There is so much on this level it is a little overwhelming for my boys. I did have a hard time the first time I went keeping everyone together with so many areas to explore.
Right now they have a Wizard of Oz exhibit on the 3rd floor and it was super adorable. They had scenes from the movie that you could walk into and take photos. They had a bike like the witch that you could pedal.
Wizard of oz slanted house
We had such a great time at the museum and my boys can't wait to experience it again. If you have the opportunity you should definitely check it out
***This post is not sponsored or affiliated with Glazer Museum. All opinions are completely my own.